Take Twenty's MD Ben Cox is a musician who brings a fresh, unique sound to the jazz scene. Fast gaining a reputation for his mesmerising tone and captivating delivery, he is steeped in the history of the song – from Tony Bennett to Chet Baker, from Paul Simon to James Taylor and Joni Mitchell.
He studied at the Guildhall School of Music and Drama on the Jazz course for four years. The work and sound of vocal ensembles has always been a particular passion of his. He was a member of a successful vocal group for three years, Vive. Vive toured around the globe, including China, Denmark, Germany, Switzerland and around the UK. They were also heavily involved in the London A Cappella festival, performing there two years in a row, and were the support act for The Real Group there in 2014. They won the Voice Festival UK choir competition back in 2013 and the Ward Swingle Award.
He now directs his own original band, 'The Ben Cox Band', working with some incredibly talented musicians from the Guildhall and the Royal Academy. He has toured around the UK, being invited to play at most of the major jazz festivals, including London, Cheltenham and Scarborough. He has also played at 'sold out' performances at the prestigious Ronnie Scott's Jazz Club and the Pizza Express jazz club twice in one year, and is looking forward to returning there again in the near future. He recorded and launched his first album 'This Waiting Game' earlier this year, which has been the subject of critical acclaim (it was named by the Daily Telegraph as one of the best jazz albums of 2015 and Jamie Cullum was also very complimentary). The wonderful Claire Martin agreed to guest on one track, singing with him.
He says: 'I am absolutely delighted to be Musical Director for this brilliant choir, with a vision to take them in new directions and to develop their sound and blend even more'.
Jonathan Taylor – our accompanist – has been a pianist, composer and educator for twenty years, primarily in the fields of jazz and tango music. He has worked with legendary funk musicians Pee Wee Ellis and Fred Wesley and played and recorded with many great jazz musicians including Iain Ballamy, Eddie Parker, Andy Sheppard, Gilad Atzmon, Tim Whitehead and Steve Arguelles. He studied composition at Middlesex University and has written music for large and small ensembles, contemporary dance and music education projects. He currently teaches jazz at the Guildhall School in London and is a music examiner for ABRSM.
Outside of jazz Jonathan is a founder member of the UK's leading tango ensemble Tango Siempre and has performed with them in every kind of venue imaginable from concert halls in Europe to tiny village halls on remote Scottish islands. Most recently he co-created and toured the successful West-End show 'Midnight Tango' featuring dancers Vincent & Flavia. Theatre work includes Edward Scissorhands by choreographer Matthew Bourne and Blues Brother Soul Sister with soul singer Ruby Turner.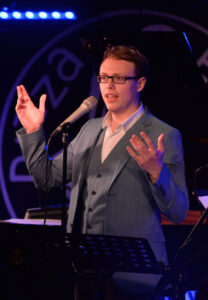 The Ben Cox Band perform at their
album launch at Soho's Pizza Express
in London on Sunday, 12 April 2015.
Photo by Mark Allan